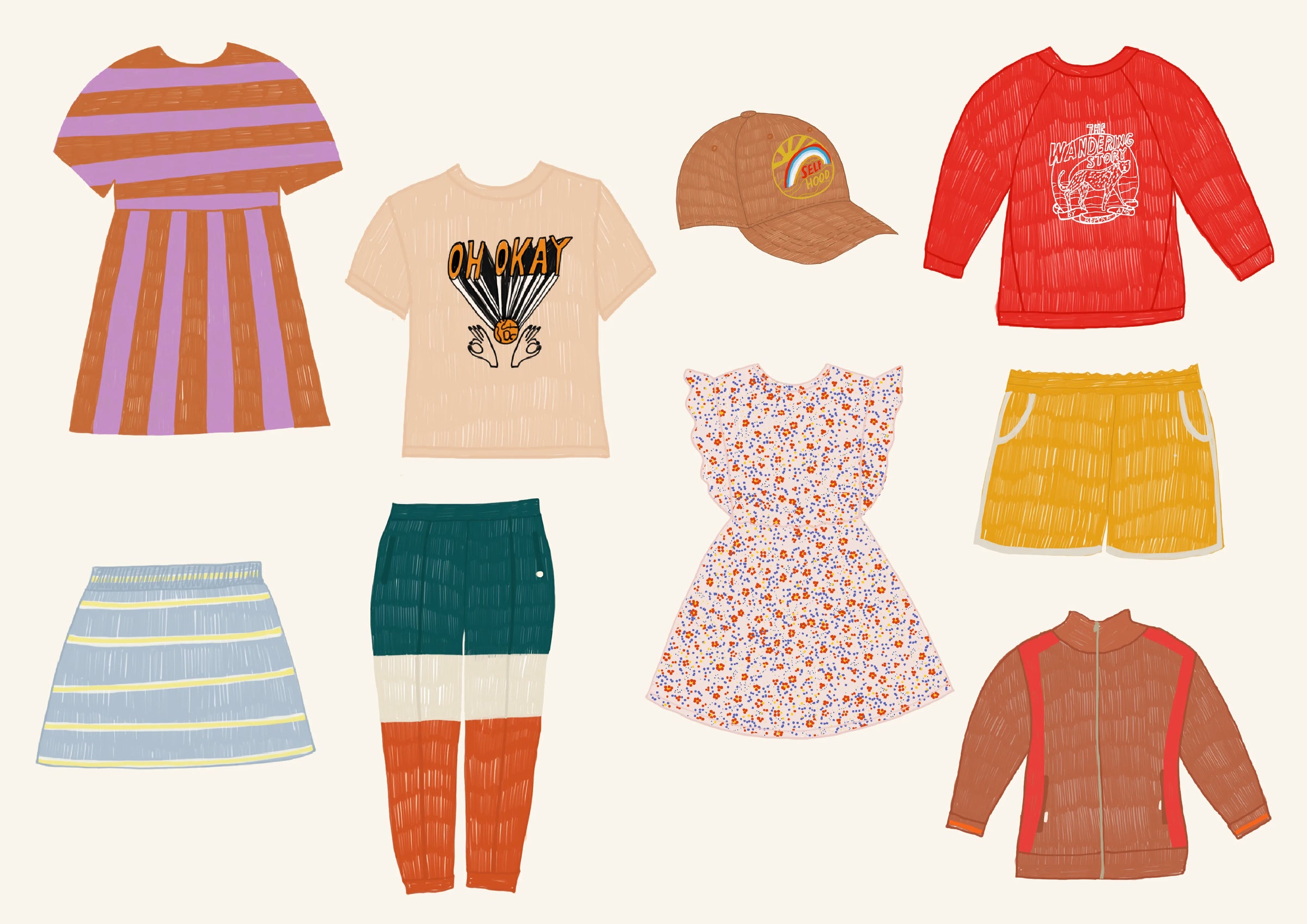 something with a story, something that lasts…
How it works
Your clothing has been gently used and still looks amazing – it deserves a second life! Your donation will make someone happy in a sustainable, environmentally friendly way. What a great feeling! Once you donate, we will reward you with a discount voucher. YAY! It's a win-win situation for everyone.
Step 1

Check our list of brands list below.
Repose AMS
Gray Label 
Hugo loves Tiki
Bobo Choses
The Animals Observatory
SOOR PLOOM
Misha & Puff
East end Highlanders
Mingo
Tambère
Main Story
Mini Rodini
April Showers by Polder
Caramel
1+ in the family
Wolf and Rita
Yellow Pelota
Engel
Bellerose
Le Petit Germain
Marmar Copenhagen
Fish & Kids
The New Society
Step 2

R E L O V E D will check each item carefully. We request the following: it looks new and there are no marks, spots, damage, or faded colours. Please note, we will not accept underwear such as socks, undies, and tights. The items also need to be season related. We accept warm sweaters in Autumn & Winter, and t-shirts and shorts in Spring & Summer. Once the form has been submitted, we will let you know within 5 business days if we can accept your item.
Step 3

Once accepted, please ship the item(s) within 7 days to R E L O V E D (shipping at your own expense):
Attn. R E L O V E D, Zeeburgerdijk 118, 1094 AJ, Amsterdam, The Netherlands (reloved@repose-ams.com)
All items not accepted for Reloved will be donated to a charity foundation. In case you do not want to donate your unselected items, please let us know in advance. Pick-up of these items must be within 14 days after our e-mail notification.
Step 4

R E L O V E D will set the price of the items. You will receive a discount voucher worth of 50% of the selling price. This discount voucher can be used in the Repose AMS Brandstore or online at www.repose-ams.com. The voucher will be valid for 12 months.
A concept where sustainable high quality childrens wear will be reused. Better for the environment, economy and reducing the CO2 footprint.
This is a great opportunity to make a statement in the (slow) fashion industry.
From memory I was six years old, and sitting at the dining table with my pencils, glue, scissors and a stack of magazines. All the other kids were biking or playing jump rope and I was surrounded by beautiful prints and all sorts of dresses. I wanted to design them in a way so they would fit my own models...  Many years later, I still love doing this, now in a slightly different way. When everything in my mind comes together as pictured it feels magical.
 Besides the magic the (fast) fashion also has it flaws, it is the 2nd most polluting industry. The textile production and consumption causes significant environmental, climate and social impacts by using resources like water, land, chemicals and landfills and I am part of this industry.
I am working on being different, and trying to make a difference. Repose AMS always aims to create and produce something meaningful, something with a story, something that last…
 R E L O V E D sprung up like a spring. All the garments are chosen for their uniqueness to ensure 'a hand me down' quality, with R E L O V E D we immediately lower our CO2 footprint, making us part of a circular fashion move and we don't have to stock these pieces of art in the attic waiting for their second or third round. 
We choose specific garments for their uniqueness but particularly because they are sustainable. I am still discovering new ways to have the clothes manufactured in a responsible way.
All I can say is that I love this new concept.
Love,
In-Yeo